>
Best trading app in India
Best trading app in India
Which is the best trading app in India? Do the best sites for trading also have the best apps? Do you want to trade stock, forex or CFDs?
We reviewed a number of apps, among others, apps from BDSwiss, Alpari International, FXPro and HotForex that didn't make the list below. The below reviews are updated in September 2020. Based on these reviews we found that FXTM's app is the best trading app for traders from India.
The wonderful news for you as a trader is that the three trading apps in the list below are completely free. These trading apps are run by foreign brokers and thus can offer trading in a vast variety of currency pairs and assets. The 3 best trading apps in India are:
FXTM Trading App
OctaFX Trading App
easyMarkets Trading App
If you want to trade only the legal currency pairs USDINR, EURINR, JPYINR and GBPINR, then the best mobile trading apps for traders from India are offered by the following brokers (in these cases you can deposit and withdraw through bank wire):
The three foreign mobile trading apps for India are furthermore run by brokers that are correctly regulated and thus you can feel safe about your money. But as always with trading, never invest more than you can afford to lose. And remember to deposit and withdraw money through an electronic wallet, instead of using bank wire when using these apps. Below you can read our reviews of these top three trading apps.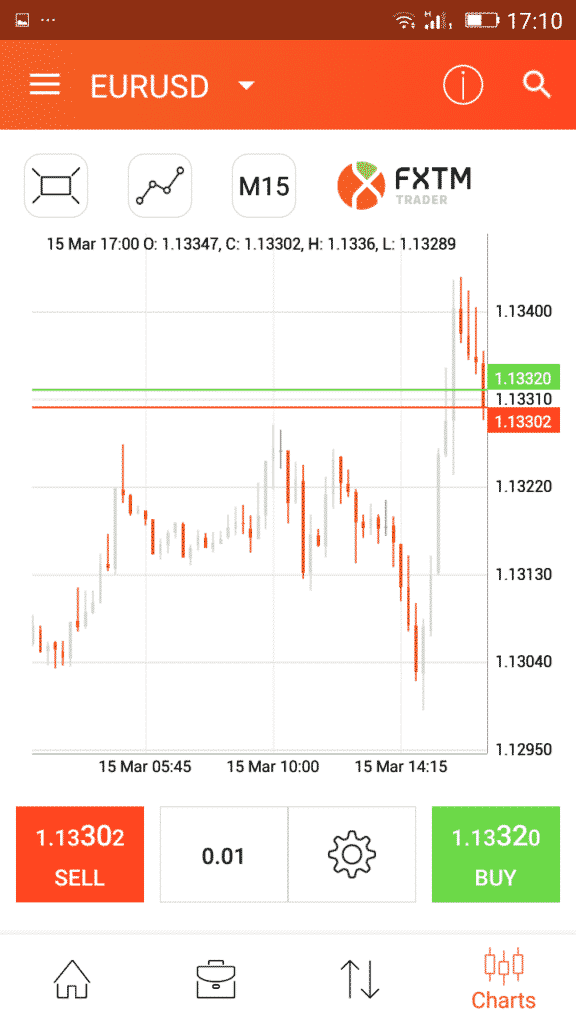 1. FXTM Trading App.
We really appreciate FXTM's mobile trading app because this app is really simplistic with great charting/technical analysis abilities, offers more than 250 tradable assets and supports cross-platform trading. Also, the broker FXTM has garnered an impressive list of awards and a long list of favorable testimonials.
Visit FXTM
Read more…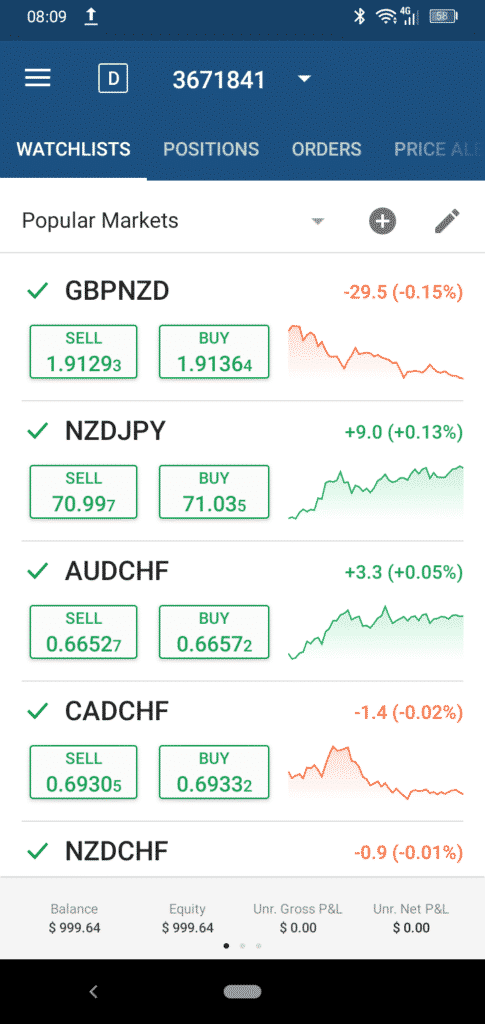 2. OctaFX Trading App.
The OctaFX cTrader mobile app puts an astounding amount of relevant information at your fingertips, when and where you need it. Still, it is a very simple and straightforward solution for trading on the go, with a few additions of extra features.
Visit OctaFX
Read more…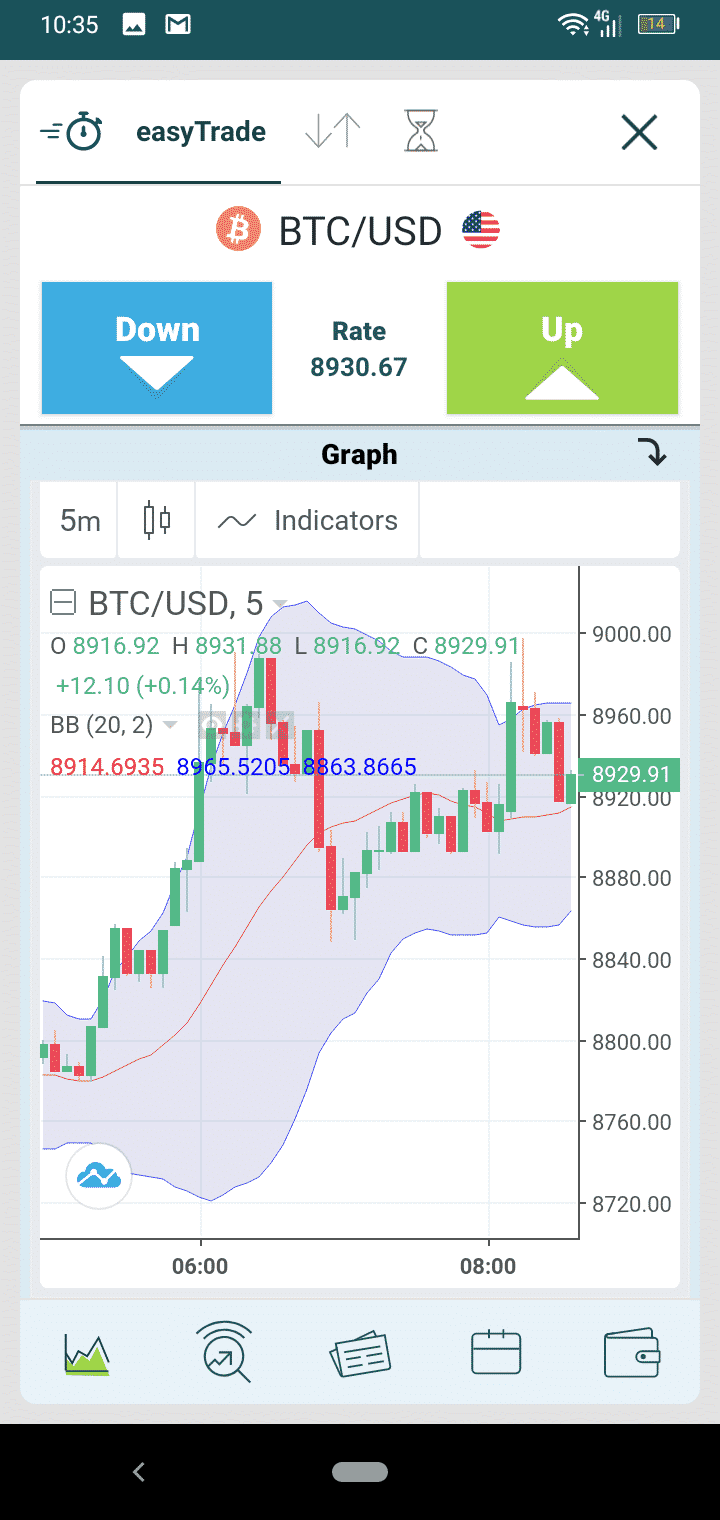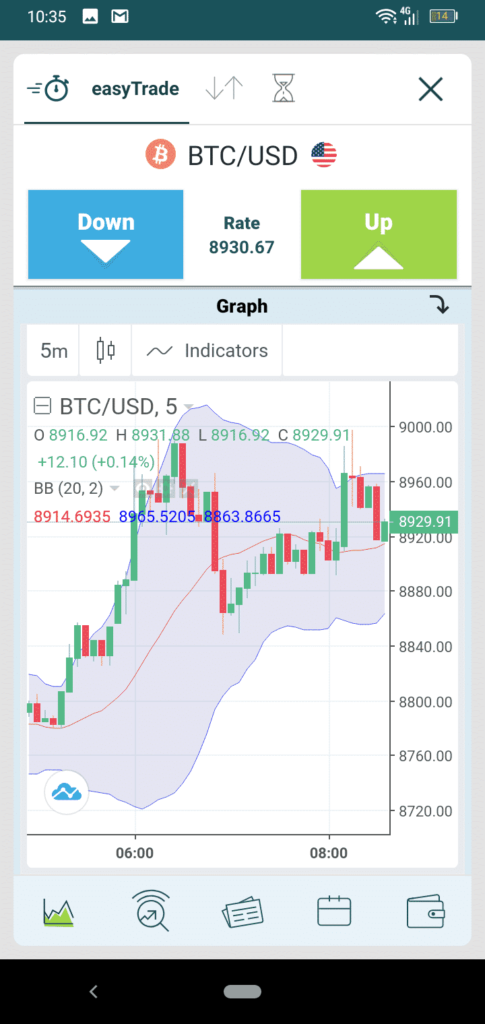 3. easyMarkets Trading App.
The easyMarkets mobile trading app has accrued mostly positive reviews from its users. The charts come with a wealth of technical indicators, such as Bollinger Bands, various MAs and oscillators. Reliability comes to mind as a very strong advantage of this trading app. Visit easyMarkets
Read more…
What to look for in the best trading app in India
The most important feature of your mobile trading app would be the possibility of cross-platform trading, i.e. you should be able to enter a trade on your desktop and close the same trade in the app. Another important aspect is how simple the app is to use. The easier the better. Furthermore, the app needs to make a wide variety of assets available for trading, to fulfill all of your trading-related needs. All the reviewed trading apps on this page offers trading in both stocks, forex and CFDs, however, the number of assets provided for trading in each asset class will vary.
Of course, you also want the app to provide both live and demo accounts. This way, you'll be able to test the app and to practice in it before you start using it for real money trading. In-app copy trading is also a feature you will likely appreciate. And lastly, on your part, you will need a highly reliable connection to avoid potentially very costly mistakes.
FXTM Mobile Trading App
ForexTime offers a number of mobile trading apps, covering Android- as well as iOS-based devices.
Its Android offering is quite interesting. There are in fact two app versions available out there: an older one, called simply Forex Time, and a newer version, called FXTM Trader.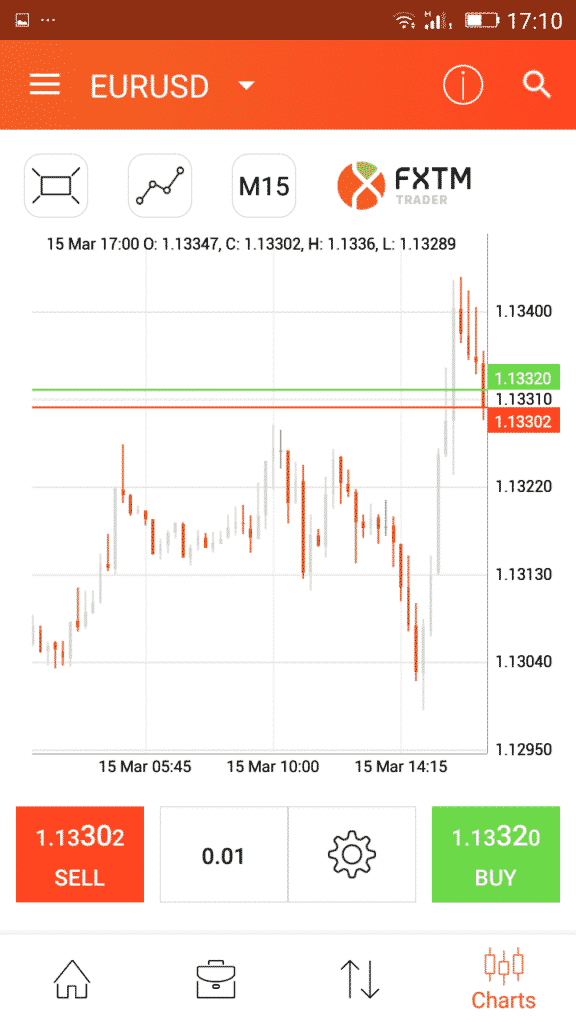 Of the two, based on Google Play reviews and ratings, the older one seems to be the more popular.
Both versions are available for free, and they can both be downloaded and installed in about a minute or two.
The older Android app, Forex Time, features a blue/teal color scheme, and it is 22 MBs big.
More than half a million people have thus far installed it, and the majority of these people have thought it worthy of a 5-star rating.
The app was last updated on October 3, 2018, so the broker has obviously stopped focusing on it.
The newer version, which continues to receive updates, features a bright, white color scheme. Some users have actually complained about it being too bright. There is currently no night color option available.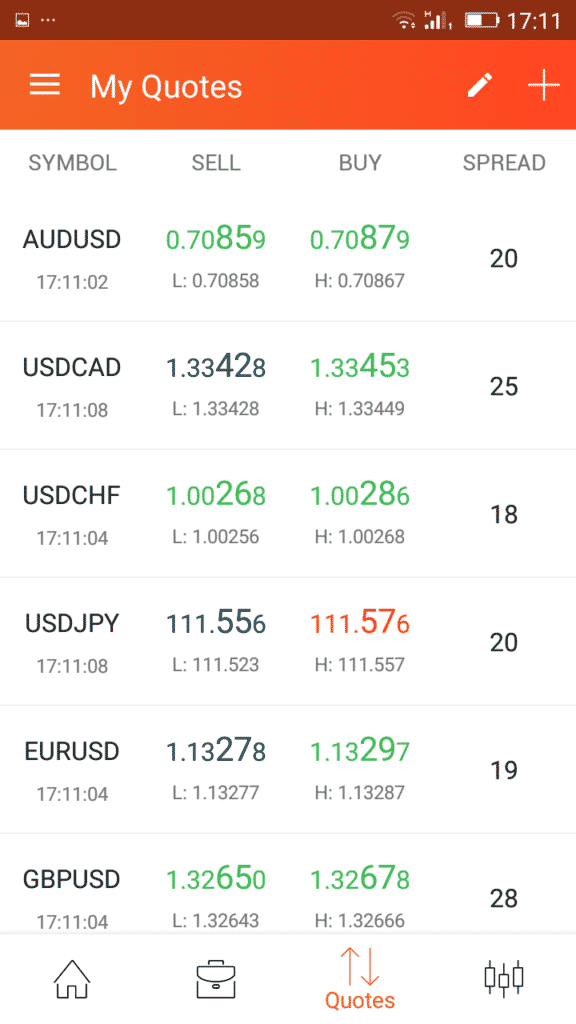 The new app is only 12MBs big and some 100,000 people have thus far installed it. Like the old version, the new one provides access to MyFXTM, Forex news, and market analysis.
As far as appearance and supported features are concerned, the iOS app is quite similar to the newer version of the Android mobile app. It features the same bright color scheme and the same functionality, yet it is 45.2 MB big.
Still, downloading and installing it will not take more than a minute or so. The same cannot be said about the account registration procedure, which is a rather lengthy one. It includes a suitability test, and only would-be traders who pass this test are allowed to go on using the mobile platforms.
Live and Demo accounts can be opened through both Android apps as well as through the iOS one.
All mobile app versions support cross-platform trading. What this means is that the trader can open a position on Desktop and close it through one of the mobile apps.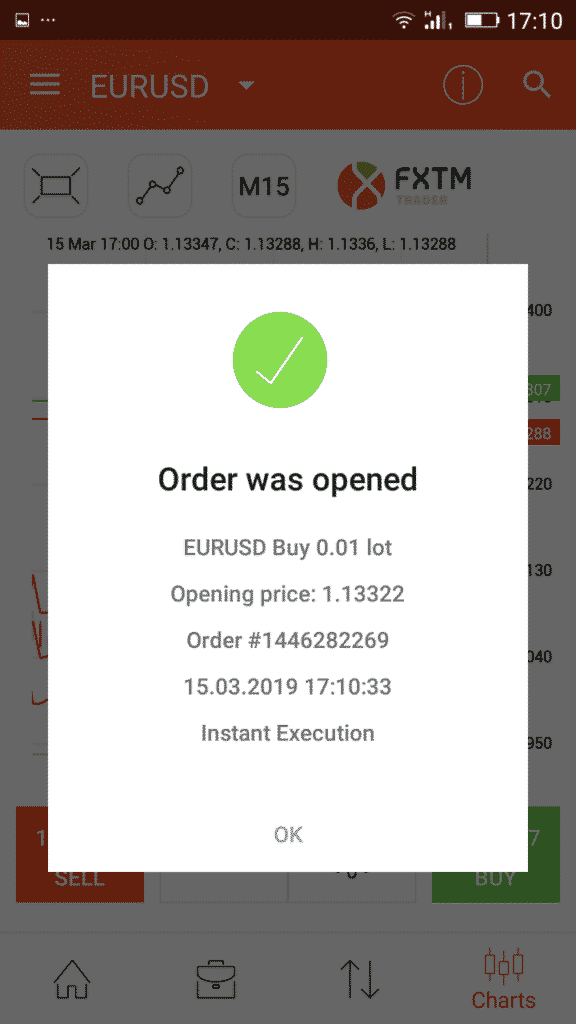 The apps are all rather simplistic and their charting/technical analysis abilities reflect it best. Remember to turn your phone to landscape position to gain access to additional TA features.
All apps support more than 250 tradable assets, focused on FX currency pairs and cryptocurrencies. Spot metals and indices-, commodities-, and shares-based CFDs are also supported. Start trading with the FXTM Mobile Trading App now.
Remember to sign up before downloading the trading app.
OctaFX Trading App
OctaFX's mobile cTrader app looks like a very simple and straightforward solution for trading on the go. The app adopts a no-nonsense approach to trading. It features watch lists, powerful charting, and a few additions which would qualify as extra features. That is about it.
The Android version of the app boasts more than 1 million downloads and installs. This is probably the result of cTrader's clout and popularity in the industry. The overwhelming majority of those who installed the software found it worthy of a rating of five stars out of five.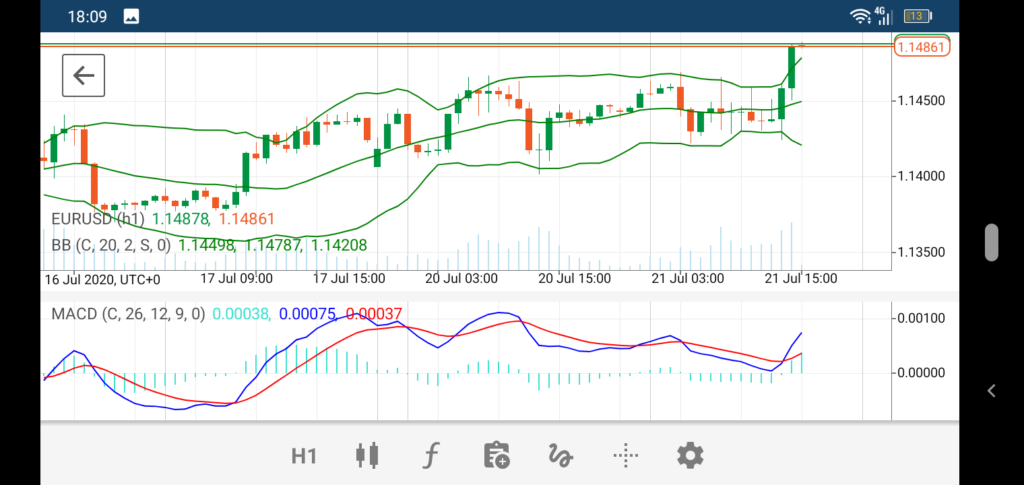 What is it that traders like about the app?
The app executes trades extremely quickly. On this account, several users have called it "better than any other app out there".
Other users say they love the app because they have been able to rack up profits through it.
Still others appreciate the fact that the app gives the profit/loss in USD.
The app is simple and very easy to work. Many people have pointed this out in their reviews.
OctaFX support is quick to react. This feature is not the merit of the app, however.
Interestingly, most traders who have dropped 5/5 ratings on the app decry some sort of minor shortcoming in their reviews.
Connection problems are an issue. Some users have complained that such problems have ruined their trades now and then.
Sometimes the app goes down and it fails to load for several minutes.
Some users have alleged withdrawal problems.
Some feel that the app lacks a "close all positions" option. From what we have seen, the app does support such an option. It even allows you to use various filters to fine-tune your mass position-closing.
The app sometimes freezes up. We have not personally experienced such problems during our time with it.
Some feel that charting is lacking in certain areas.
Some traders mentioned that they needed to log in every time. This issue must have been remedied since. We have certainly not encountered it.
The Android version of the OctaFX mobile app has earned a rating of 4.1 out of 5 stars. The app is just 23 MB big. You can download and install it within a few seconds.
The iOS version is 197 MB big. It is also less popular with users than the Android one. Its App Store rating is just 3.4 out of 5.
The Strengths of the OctaFX Mobile App
The cTrader mobile app allows for the full management of your trading accounts. It lets you set up new trading accounts, tweak your leverage, manage and modify passwords, enable swap-free options, etc.
The app supports an impressive number of languages, from English and Chinese to Bengali, Hindi, and Malay.
The mobile app supports many of the popular payment options.
It gives you an excellent overview of your trading history. It even allows you to apply filters that eliminate your previous deposits, etc.
The Demo account is superb. Not only does it work just like a real money one, it even allows you to top it up.
Bonus management through the app is superb. The app lets you view your bonuses, as well as detailed statistics on your active and completed rewards.
How to Open a Position through the OctaFX Mobile App
Assuming that you start at the dashboard displaying one of your watch lists, there are two ways to launch a trade.
You can tap one of the assets in your watch list, opening up the chart page of the said asset. From there, you are free to perform your technical and fundamental analysis. Once done, all you need to do is to tap the Buy or Sell button. As soon as you do, the app fills your order and posts your ticket at the bottom of your screen.
The other way is to tap the Buy or Sell button directly on your watch list. In this case, the app opens a "create order" page, where you can choose your order type, set your take profit and stop loss, the quantity, and you can even attach a comment to your order. When done, just tap the "Place Order" button at the bottom of your screen.
You can keep an eye on your open positions in the Positions section. And yes, you can close them all at the tap of a button if you elect to do so.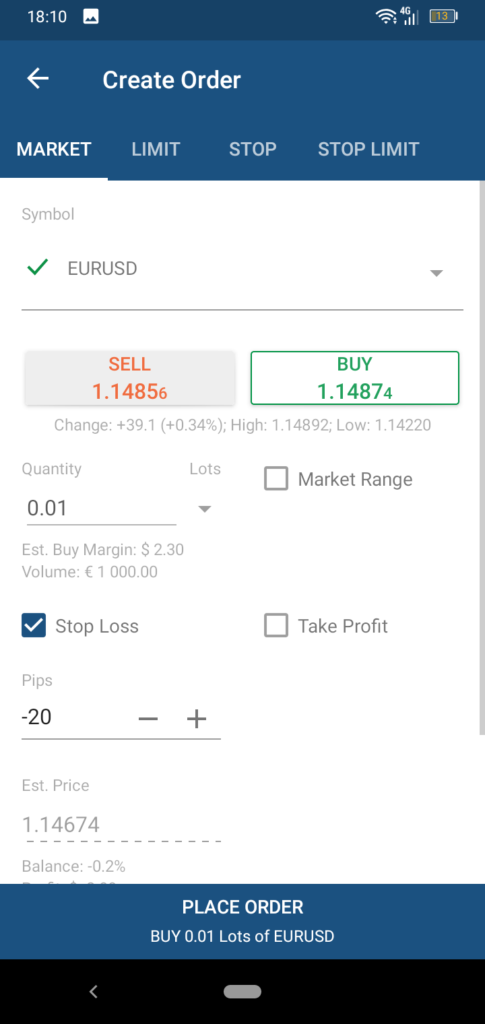 Special Features
When you tap an asset from one of you watch lists, the app opens a page that contains a wealth of information on this asset, in addition to the detailed chart.
The market sentiment indicator.
The market depth indicator.
Relevant entries from the economic calendar.
Technical analysis by Autochartist.
Market hours.
Trade statistics.
Leverage.
It is handy to have all this relevant information at your disposal before you commit.
Conclusion
Though simple at first glance, the OctaFX cTrader mobile app puts an astounding amount of relevant information at your fingertips, when and where you need it.
It does a great job at what it is supposed to accomplish. It may misfire with bad internet connections, but we have found that with a proper connection, it never misses a beat.
easyMarkets Mobile App Review
The easyMarkets mobile trading app looks good and it works as intended. The application has accrued mostly positive reviews from its users. Its Google Play score is currently 4.1 out of 5.
That said, there are some user complaints that do not seem to make a lot of sense.
Several people have complained that the app is slow to load. We have not noticed such problems. From what we saw, the mobile platform launches just as quickly as any of its competitors.
Others have complained about lag when opening positions. We have not experienced any lag in this regard either.
Some do not like the visual appearance of the trading interface. While the graphics of the app are not particularly outstanding, it looks just as good as any other modern mobile trading app.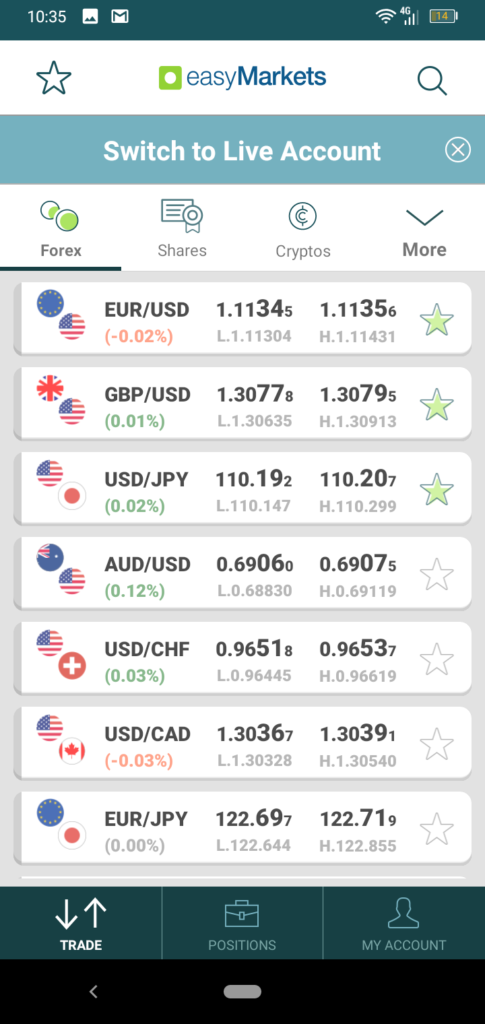 The dashboard does not include charts by default. You can, however, open the chart of an asset by clicking on it. We should also add that the chart looks great. Users can add a wide range of technical indicators to it in landscape- as well as portrait mode.
Upon its first launch, the app jumps into tutorial mode. It explains its functions and shows the user how to make the most of its capabilities.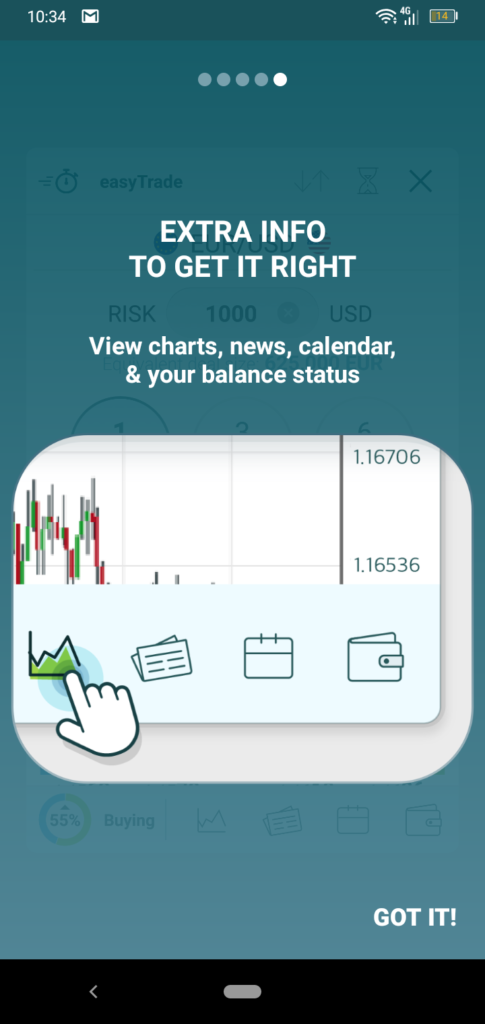 The platform does not go into disarray after a period of inactivity. Its functions, including its charts, continue to work as intended.
What Does the EasyMarkets Mobile App Aim to Deliver?
Decent tradable asset selection.
Reliability.
A slew of interesting special features.
Live Price notifications.
Fixed spreads.
Top-notch account management and support.
Asset selection takes center stage on the dashboard. All supported asset categories are displayed top center. In this regard, the app offers Forex, indices, shares, cryptos, commodities, and metals. A handy search tool makes it easy for traders to find their preferred assets.
Most trading through the app happens via CFDs.
How to Open a Position Through the EasyMarkets Mobile App?
Opening a position with easyMarkets starts with asset selection. Once you have located the asset that you want to trade, click on it. The app will give you details on the trade you are making. It lets you choose the expiry time and it shows you the potential payout in both directions.
The broker has recently added Japanese, Australian and Hong Kong-listed shares to its tradable asset selection.
As soon as you click the Buy or Sell button on this screen, your trade goes live. You can open the chart belonging to the selected asset, at the bottom of your trading screen. You can perform your technical analysis right there. Other shortcuts next to your chart button let you analyze the fundamentals as well.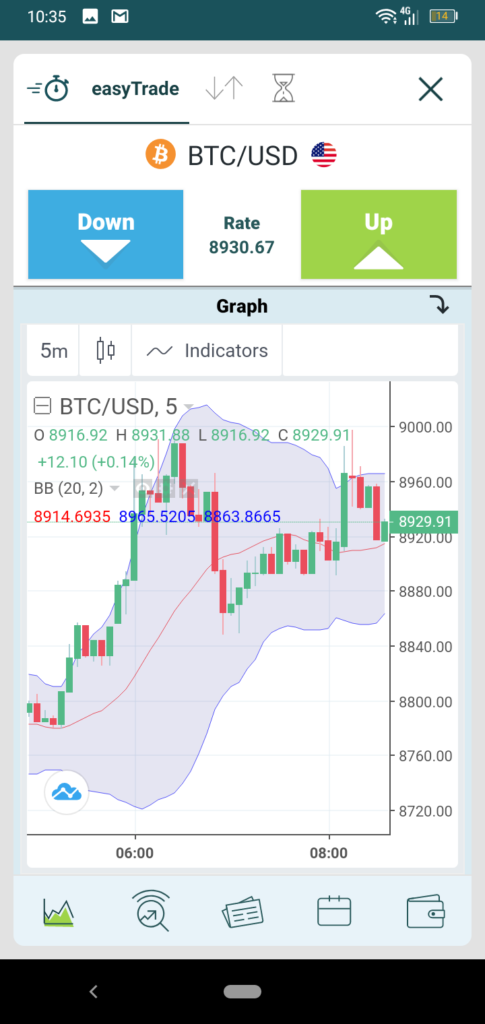 You can monitor the status of your open positions through the Positions button at the bottom of your easyMarkets dashboard.
The My Account feature will give you a detailed picture of your account. It covers your balances, margins, and your current Profit/Loss situation.
Special Features of the easyMarkets Mobile App
The Demo version of the app is fully-featured. It offers all the functions of the real money version. The only difference is that you will not risk any real money through it.
As mentioned, once you click on the tradable asset of your choice, the app opens a trading screen. At the bottom of this screen, there are features that should fulfill all of your technical- and fundamental analysis needs.
The chart comes with a wealth of technical indicators. You will find everything here from the Bollinger Bands to various MAs and oscillators. You can also change the chart type and the time frame. The chart supports 11 time frames, from one minute to one month.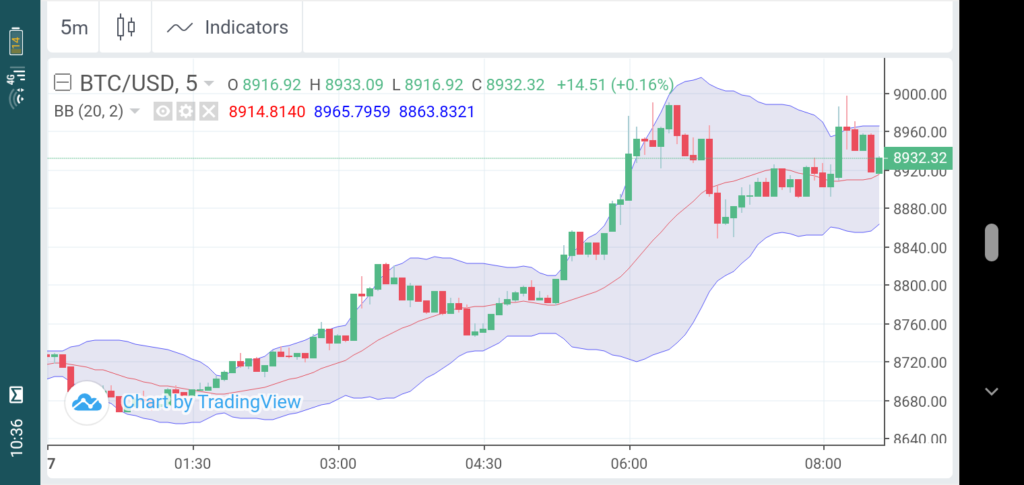 Next to the chart, there is a Trading Signals button. This section provides you with trading signals that are detailed and easy to apply.
The News button gives you a peek into the fundamentals that drive the price.
The Financial Calendar highlights future events likely to impact price evolution.
You can re-launch the tutorial feature at any time if you need extra information.
Sensitive to user feedback, the easymarkets team has recently implemented a feature which is truly exceptional, albeit not unique. This feature is called dealCancellation and it allows traders to undo their trades in exchange for a small fee. If you do not like a losing trade you just had, you can undo it in 1,3 or 6 hours. Through cancellation you can recover your lost funds, minus the mentioned dealCancellation fee. Be aware that you have to activate the dealCancellation feature and pick the timeframe before you launch your trade.
The iOS version of the app supports dealCancellation as well. This version is now also available in German and Japanese.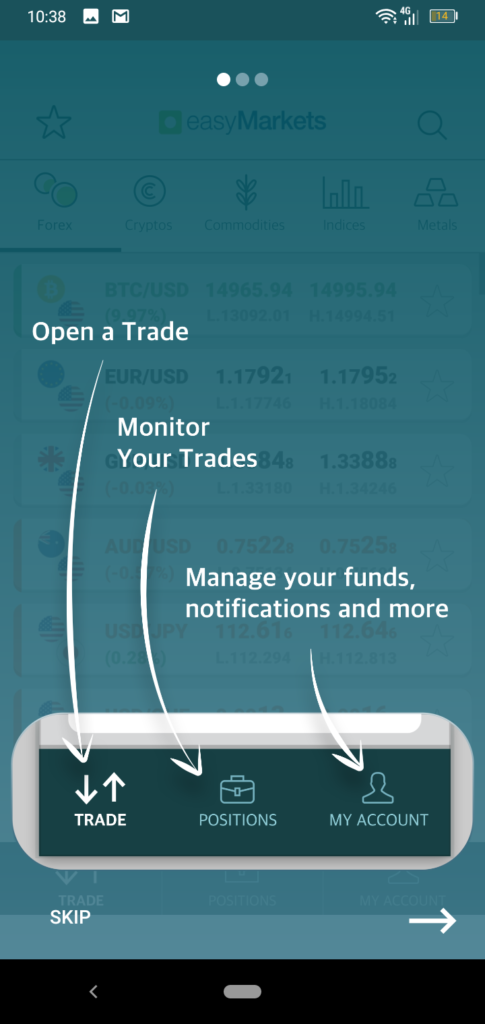 User Feedback
As mentioned, most users are happy with what the easyMarkets mobile app offers them.
Some of the user complaints are related to withdrawal issues and the alleged mishandling of funds. Such issues have little to do with the app itself. Start trading with the easyMarkets Trading App now.
Happy trading!
Please share all the comments you might have on these trading apps in the comment field below. Which is the best trading app in India according to you? And do you feel that the best trading app for beginners would be the same app?
Please comment below