>
Best Day Trading Platform in India in 2020
Best Day Trading Platform in India in 2020
Which is the best trading platform in India? Is the best trading platform also best for beginners and day trading?
We have reviewed a great number of online trading platforms and found the answer in the list below. A few of the best platforms that didn't make the list were trading platforms from Tradefred, BDSwiss, Nord FX, HotForex, CMC Markets and Saxo Bank. The winner from these reviews: FXTM's trading platform is the best trading platform in India and it is also great for day trading. OctaFX and easyMarkets also made the top three trading platforms in India.
The wonderful news for you as a trader is that all three trading platforms in the list below are completely free. All these trading platforms are offered by foreign, well-regulated brokers that accept traders from India. The 3 best trading platforms in India are:
FXTM Trading Platform, available in 16 languages
OctaFX Trading Platform, offers MetaTrader and cTrader.
easyMarkets Trading Platform, great for skilled traders with a nice freeze the price feature.
On these top three trading platforms, you can trade stocks, CFDs and all major currency pairs, not only the legal pairs USDINR, EURINR, GBPINR and JPYINR. Therefore you want to deposit your money with these brokers through an electronic wallet instead of making a bank wire directly from your account. As always with trading, never invest more than you can afford to lose. Below you can read our more in-depth reviews of the best three trading platforms in India, which are all well regulated and accept traders from India.
1. FXTM Trading Platform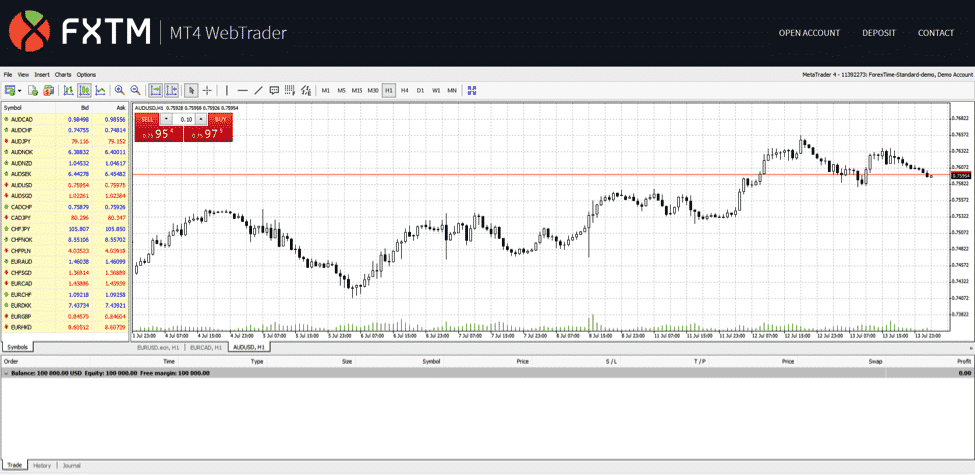 In addition to offering the option of using MT4 or MT5 with your FXTM trading account, FXTM offers customers their proprietary FXTM MT4 WebTrader platform. This web based platform requires no download and can be accessed directly from any browser. The WebTrader platform supports all operating systems and has a simple to use interface available translated into 16 different languages.
In addition to one click trading, which allows a trader to make a transaction with a single mouse click, the web platform offers nine chart time frames with trading available directly from the charts. The web platform, which is based on MT4, has all the advanced analysis tools and can be used in both a live account and a demo account.
The screenshot below shows FXTM's proprietary MT4 WebTrader page with real time market pricing, deal execution, and tools for technical and fundamental analysis.
FXTM now also provides clients with facilities to conduct copy trading on their series of MetaTrader trading platforms. With the copy trading service, FXTM traders can access a wide array of trading signals they can subscribe to. Once subscribed, every trade executed by the signal provider can be automatically copied. With the copy trading service, even novice traders can begin trading like pros.
---
2. OctaFX Trading Platform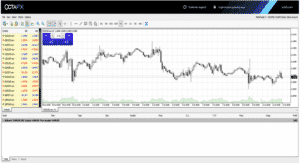 OctaFX will greatly please many forex traders since it offers support for the very popular MetaTrader 4 and MetaTrader 5 online trading platforms and their mobile apps. In addition to trade execution and order placement, these platforms offer extensive charting, technical analysis and portfolio management features. They also allow you as a trader to write your own Expert Adviser that can automate dealing activities.
The screenshot shown above illustrates the basic functions of the OctaFX installation of MetaTrader 4, which includes market monitoring, charts and technical analysis, on-screen trade execution, trade history and account management features.
OctaFX also supports the increasingly popular series of desktop and mobile app trading platforms offered by cTrader, which offers interesting features for you that MetaTrader does not offer.
---
3. easyMarkets Trading Platform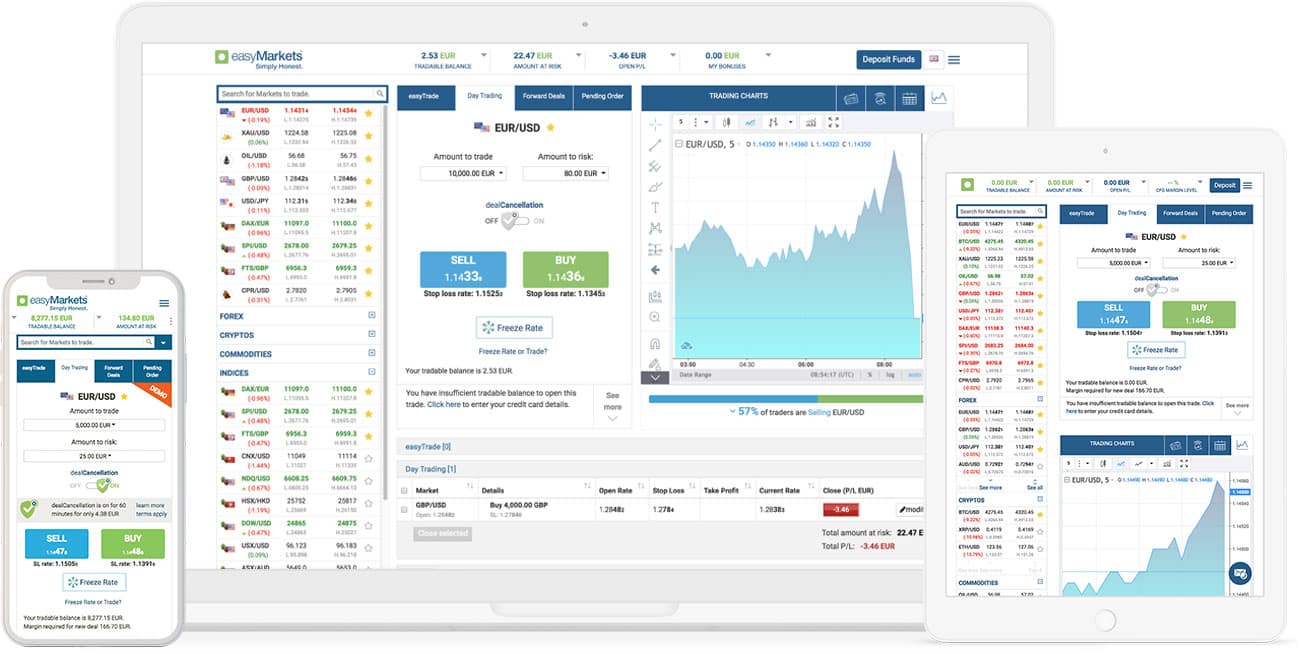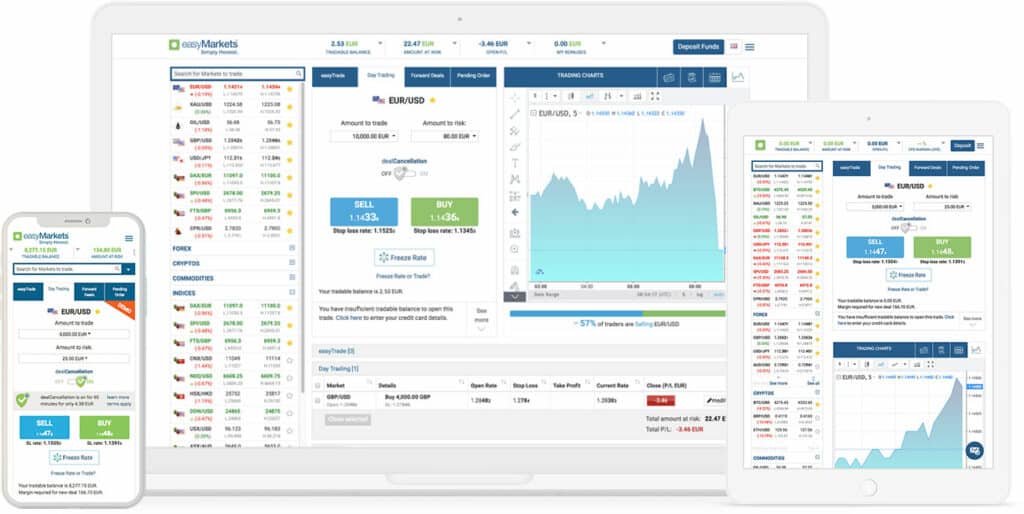 EasyMarkets offers a web based trading platform that allows traders to execute deals from just about any online computer in the world with a browser. In addition, the company offers an MT4 trading platform that has its usual extensive support for technical traders.
This platform gives traders access to quote for more than 200+ instruments, including forex, commodities, metals and indexes, all with online access 24/7 and without the need to download and install any software. One click trading is available from the platform's Market Explorer, which includes advance charting options, news, technical analysis and market sentiment, all on one screen.
The screenshot below illustrates easyMarket's trading platform that allows traders to execute deals in forex pairs, vanilla currency options, CFDs, commodities, precious metals and indices, as well as perform technical and fundamental analysis functions.
EasyMarkets' trading platform runs on Internet Explorer's Version 10 and above, FireFox, version 31 and above, Google Chrome version 31 and higher, Opera version 24 and above, Android version 4.1 and above, Google Chrome for Android version 37, and Safari version 7 and above. Non-supported browsers remain fully functional despite displaying some stylistic elements differently.
EasyMarkets users can unlock a third trading platform: easyTrade. easyTrade can be accessed from the EasyMarkets platform. In the top right corner, there is a Menu button. Hit that and a number of options will roll out, with easyTrade being at the bottom.
In addition to dealCancellation, the broker also offers a unique trading tool called Freeze Rate. This feature lets traders freeze the price they see, thus gaining a few seconds to place their trade. To those skilled enough, such a feature offers a great advantage.
Happy trading!
Please share all the comments you might have on these online trading platforms in the comment field below. Which is the best trading platform for traders from India according to you? And would you say that the same platform is also best for beginners?
Please comment below